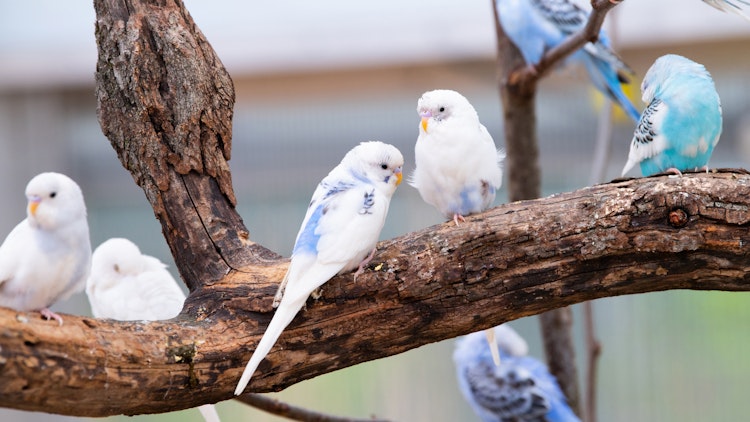 Closed Seasonally
Separate ticket for this experience.
Enjoy up-close interactions with boisterous and colorful birds. Hang on to your complimentary seed stick - the budgies will fly freely around the exhibit, and may choose to come to you for a little snack.*
Tickets $5 per person $3 per person for Members Budgie Landing ticket includes 1 seed stick for guests to have the opportunity to feed, if the birds choose to eat.
Tickets are not included with park admission and must be purchased at Budgie Landing.
---
Please Note Closing time may vary. We recommend visiting before 3pm. Thank you for understanding if we need to give the birds quiet time. We appreciate your support.
---
Accessibility
Manual and electric wheelchairs are permitted. Always proceed slowly and watch out for birds on the path.
EVCS ARE NOT ALLOWED. For animal safety, electric scooters, including the zoo rental ECVs, are not permitted inside and must be parked before entry. Please see staff if additional mobility assistance is needed.
RESTRICTED AREA: For the protection of the animals, service dogs are not permitted in this attraction. Please refer to the Service Dog Policy for additional information.
---
*As is the case with all of our animals, the behavior of the budgies is not guaranteed. Guests are advised that the birds may or may not choose to feed during the time of your visit. One complementary seed stick is included in each Budgie Landing ticket purchase.